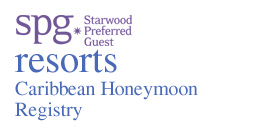 Welcome to Paradise
Imagine a pristine stretch of beach with soft white sands, alluring blue waters, sunny skies and lush natural beauty surrounding you as you sip on a tropical concoction - this is the paradise of the Caribbean. Starwood Caribbean welcomes you to discover their magnificent resorts and hotels in Aruba, Bahamas, Grand Cayman, Puerto Rico, St. Maarten and St. John. With exceptional service, lavish amenities and friendly hospitality in exotic settings, your escape to an island oasis awaits.
Luxurious Accommodations
Starwood Caribbean's resorts and hotels present luxurious accommodations with unparalleled comforts and refined elegance. From rooms and suites, to studios and villas, your chosen sanctuary will allow you to refresh and rejuvenate with unique and restorative amenities, exclusive room service and contemporary delights. Discover pure relaxation on your private balcony as you sit back and indulge in the stunning surroundings of Starwood's Caribbean paradise.
Indulgent Dining
Refresh your palette with indulgent dining at Starwood Caribbean's resorts and hotels. Serving breakfast, lunch, dinner, drinks and snacks, tantalize your taste buds with exceptional cuisine at your chosen bar and grill, cafe or restaurant. From enticing international and creative Caribbean, to freshly caught and casual dishes, you will embark on a journey of culinary delights and moments to savor.
Exciting Activities
Explore and discover paradise on your island escape. Starwood Caribbean's resorts and hotels offer an array of activities from snorkeling and scuba diving, sailing and deep sea fishing, to golfing and kayaking. Try your luck in the casino or choose from a wide variety of water sports. No matter what you decide, the experience will be just as memorable as it will be remarkable.
Soothing Spas
Delightfully detox and experience renewal in the soothing spas at one of Starwood Caribbean's resorts and hotels. Featuring an array of exquisite spa services, you can rejuvenate your mind, body and soul with relaxing massages, beautifying facials, luscious body treatments, manicures, pedicures and more. Embark on a spa journey that will transport you to a world of peace and calm, leaving you with a blissful sense of well being.
See A Sample Honeymoon Registry
Request additional information/Get a quote
Weddings and Honeymoons
From the perfect wedding day fantasy to the dreamiest honeymoon, Starwood Caribbean's resorts and hotels will provide the perfect setting for your special occasion. With enchanting backdrops and exemplary service from attentive staff and wedding consultants, your wedding and honeymoon will be everything that you imagined. Simply be swept away by the Caribbean's natural splendor and live out your happily ever after on an island paradise.
Return to previous page