No other resorts in the world are so completely dedicated to couples in love. That's why a Sandals Resorts tropical honeymoon is the kind of honeymoon destination you dream about.
Jamaica
The beaches in Jamaica are truly spectacular, from secluded private coves to Negril's world-renowned seven-mile stretch of powdery white sand. Newlyweds could be forgiven for spending their entire heavenly Sandals Resorts honeymoon basking in the seductive warmth of the ever-present sunshine, while sipping exotic tropical drinks and gazing out at the endless expanse of turquoise waters of the Caribbean Sea. Sandals Resorts in Jamaica are so much more than just a beach, they are the perfect resorts for two people in love.
Montego Bay
Stroll Montego Bay's Gloucester Road and experience Jamaica's vibrant present while you get a sense of her colonial past. With quaint gingerbread architecture merging seamlessly with more modern structures, Montego Bay, Jamaica's second-largest city, allows visitors to dive into the heart of a bustling, Caribbean town. Pause to marvel at the Georgian buildings or linger the afternoon away in a crafts market. Vivid colors, activity and laughter abound everywhere you turn in Montego Bay, inviting you to soak in the warmth and join in the fun.
Negril
A spot so enamored with nature's bounty that its tallest building cannot reach higher than its plentiful palm trees, Negril embodies the ultimate relaxed lifestyle. Spanning Negril's famed Seven-Mile Beach, Sandals Negril conjures up tropical vibrations with a casual, understated elegance. Meander down walkways dotted with swaying palms and sea breezes, while listening to the hypnotic sound of waves lapping at the shore. Experience romantic moments created by the most amazing sunsets. Savor world-class cuisine at breathtaking, oceanfront restaurants. Relax and enjoy luxurious accommodations, steps from the Jamaican beach, including some of the most unique suites in the world with butler service where you can swim-up to your private patio.
Ocho Rios
Located roughly in the center of Jamaica's North Coast, Ocho Rios lays claim to an incredible variety of natural and manmade bounty. Characterized by luxuriant greenery, mountains that soar down to meet stunning beaches, plus the world-renowned Dunn's River Falls, this town virtually pulsates with indescribable energy. Sandals Resorts offers two distinct resorts in the Ocho Rios area for you to choose from, Sandals Grande Riviera Beach & Villa Golf Resort or Sandals Royal Plantation. There are many ways to express your love at Sandals Grande Riviera, whether on the beach or tucked away in the mountains. Choose the Riviera Seaside & Beach Club, overlooking half a mile of white sand beach, or the Do-Not-Disturb privacy of the secluded Riviera Villas & Great House on the hillside above. Whatever your choice, love is truly all you need. For the ultimate in exclusivity and indulgent pampering, escape to Sandals Royal Plantation, the only all-butler, all-suite boutique resort in the Sandals Resorts collection. Nestled within a magnificent coral bluff on Jamaica's lush north coast, this intimate resort of just 74 ocean-view suites is renowned for its impeccable service, unmatched attention to detail and retro-chic sophistication.

Whitehouse
Do you enjoy the thrill of being the first person to leave your footprints in the sand? If so, then Whitehouse is the destination you have always dreamt of. Sandals Whitehouse Europe Village & Spa perfectly blends the exotic allure of the Caribbean with the refined elegance of Europe. Set within a 500-acre wilderness preserve, blue mountains, lush palm groves, pristine coastlines and shimmering turquoise waters create an unbelievable backdrop for a monumental resort. Whitehouse offers a window into a side of Jamaica seldom seen by visitors to the island.
See A Sample Honeymoon Registry
Request additional information/Get a quote
Sandals Wedding Calendar / Check Availability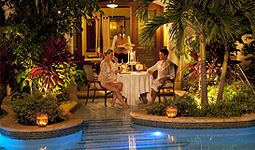 Return to previous page