Breezes Runaway Bay & Breezes Montego Bay
Breezes Runaway Bay and Breezes Montego Bay Resorts is Super-Inclusive which means that virtually everything you can eat, drink and do is included and tipping is simply not permitted. Here at Breezes Montego Bay and Breezes Runaway Bay everything is romantic. It's Active. It's blue skies. It's powder white sand. It's crystal clear waters. Everything is Irie. The sweetly scented tropical flowers drifting with the soothing sea breezes. The horizon is a bright and brilliant collage of white sand and azure water. Here you're free to be yourself, in a hammock beneath the shade of a swaying palm. We know you have the perfect paradise in mind, that's why we have you, the happy couple, in mind. A pristine tropical paradise to cherish the memories of your perfect destination wedding.
Honeymoons At Breezes Runaway Bay & Breezes Montego Bay
Maybe it's the water. Or the moonlight. Or the gentle tradewinds. Maybe it's just being in exactly the right place at the right time. Somehow, for more than thirty years, Breezes Resorts have been the right place for so many couples just like you. Romantic and sensual. Fun and elegant. Sophisticated but never stuffy. A sun-warmed beach, beautiful tropical grounds, moonlit walks on the beach, brilliant blue skies and crystalline waters - combined with a Super-Inclusive wedding or honeymoon package, it all adds up to a stress-free special day in paradise and memories that will last a lifetime.
Included In Every Breezes Runaway Bay & Breezes Montego Bay Honeymoon
* Super-Inclusive features of the resort
* One category room upgrade
* Bottle of Champagne, iced, in room
* Free night stay for honeymoon

Weddings At Breezes Runaway Bay & Breezes Montego Bay
Well, after all it is your wedding and indulgence is definitely in order. If you can't find Heaven here, you may as well stop trying. Here, wedding specialists are eager to assist you with every aspect of your upcoming event and will make sure your wedding day unfolds flawlessly. Author your own storybook wedding and fantasy honeymoon, from a spectacular exchange of vows, to a traditional ceremony and reception. Weddings have always been extraordinary here at Breezes Resorts. After all, with the gorgeous backdrops of some of the worlds most exotic settings, it would be hard not to make your special day all you've dreamed it could be. And the best part is, just like virtually everything else at Breezes Resorts, a picturesque wedding in paradise is included, with our compliments, as a gift to the happy couple. For couples wanting the most picturesque venue for their nuptials, Breezes Runaway Bay created a new Wedding Chapel right on the beach. This Victorian inspired chapel provides the perfect setting with promising ocean and beach views for couples and guests to cherish beautiful memories of that special day.
Included In Every Breezes Runaway Bay & Breezes Montego Bay Wedding
* Free wedding with minimum 3-night stay (any category)
* Marriage license
* Minister fees
* Preparation of documents
* Affidavits
* Wedding planner
* Recorded music upon request
* Witnesses if needed
* Champagne or sparkling cider
* Decorated wedding area
* Wedding cake
* Bouquet and boutonniere
* 4 complimentary off-property wedding guest passes
* Candlelit dinner for bride and groom
* Continental breakfast in bed, morning after wedding
* 7th night bonus for 6 night honeymoon vacation

See A Sample Honeymoon Registry
Request additional information/Get a quote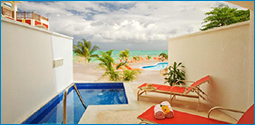 Rates & Reservations
SuperClubs include your accommodations, all your entertainment, dining and drinks! The price of your SuperClubs stay depends on your itinerary, room category, room upgrades and room availability. For a quote on your dream honeymoon at Breezes Resorts, please click on "Request a quote," fill in the information needed and one of our honeymoon travel specialists will help you find exact pricing.
Return to previous page